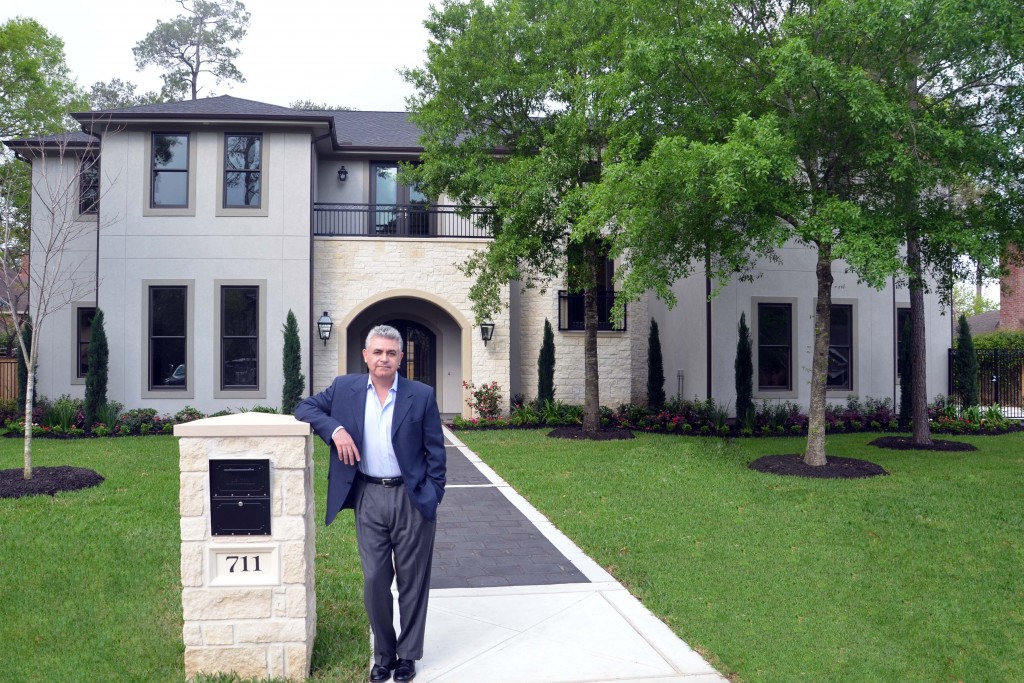 Fabricating foundation for growth
Former banker puts custom home business on right path by shifting focus amid housing downturn.
Because Amir Khosrowshahi started Protege Homes in 2006. just before the housing market hit the skids, the first few years of the custom homebuilding company's life were about survival. Now, with the housing market finally showing signs of stability, Khosrowshahi turn his attention to growth…
Houston Chronicle
April 4, 2009 By Nancy Sarnoff
When David Thompson started looking for a house in the Old Braeswood area last year, the properties for sale in the stately neighborhoods near Rice University were either too small for his family of five or too pricey.
"Despite the market, prices were not coming down," he said. "Anything over a million bucks was just sitting there."
Real estate experts said the market for high-end homes in Houston has stalled because buyers and sellers can't meet in the middle.
"For a while, whatever price you put on it, it would sell for that," real estate broker John Daugherty Jr. said.
Fewer high-end sales
Last year, 3,178 Houston-area homes sold for $500,000 or more. That was down about 10 percent from 2007, according to a study from Crawford Realty Advisors in conjunction with the University of Houston's Institute for Regional Forecasting.
Homes that went for $1 million or more were down 8 percent, according to the data, which is based on sales in a five-county area.
The slowdown has continued into 2009.
High-end sales of at least $500,000 were down more than 40 percent both in January and February compared to the same months last year.
Thompson had to get creative to find a house in his price range of $500,000 to $1 million.
He started knocking on the doors of homes in the neighborhood that weren't listed for sale in hopes of getting an inside track on anyone will to sell in that range.
One of the properties he visited, a 1950s ranch rambler with four bedrooms and a quarters in back, was about to go on the market, and Thompson struck a deal with the owner.
Some Realtors said homes that aren't overpriced are still selling at a fast clip — sometimes getting multiple offers — while other experts point to a reluctance from buyers to plunk down gobs of cash with the financial markets in turmoil or pay higher interest rates that typically come with jumbo loans, which are those that exceed $417,000.
"High-end buyers have a bunch of stock. When their 401(k) becomes a .0001(k)," they sit on the sidelines, said Charlie Neath, an agent with John Daugherty, Realtors.
Values hold or rise
While sales dipped in some of Houston's most exclusive neighborhoods, values in those areas didn't follow the same trend.
The median price per square foot in River Oaks last year was $360.96, up 5 percent over 2007, according to the Crawford data. Tanglewood values were flat, and West University Place posted a 12 percent increase.
Bill Cunningham, president of Woodway Financial Advisors, has seen the upper-end property market slow through some of his high net-worth clients.
He's working with a recent widow who's planning to sell her ranch-style house in Piney Point.
In September, the two-acre property was appraised at land value for nearly $1.5 million.
The owner's daughter contacted 40 builders in hopes that one or more would want the property, but she only heard back from two.
"The highest offer they got was $1.2 million, take it or leave it," Cunningham said.
Tom Anderson, executive vice president of Martha Turner Properties, said the biggest change he's seen in the luxury market has been in land prices.
In recent years, sales of lots and teardowns had been booming, with custom builders bidding up prices to never-before-seen levels.
"There was such a run-up in West U, Tanglewood, Memorial — there's no question there was a feeding frenzy for two years on lots," Anderson said.
Now, as some of the new homes languish on the market for months, lot values are starting to slip.
Last year, a lot in Oak Estates sold for $700,000, only to be resold recently for $500,000, Martha Turner said.
Turning to other work
Custom home builder Amir Khosrowshahi is taking more remodeling jobs to weather the downturn.
He's in the middle of construction on a house in the Memorial area and has one nearby that's been on the market for about four months.
"Things out there are a little unpredictable," he said.
Still, Anderson said business at Martha Turner Properties has bounced back since the hurricane, which caused the market to come to a halt.
"We were affected by those two months after the storm, but we are slightly ahead this year," he said.
And while Houston's job market isn't as robust as it was a year ago, relocation buyers are still an active segment in the market, agents said.
In some cases, though, their purchases are being delayed because they can't sell their houses in other cities hit harder by the housing crisis.
John Daugherty just leased an apartment to a couple from New York who moved here for business.
"They haven't sold their home in New York, so they leased an apartment in the River Oaks area for six months," he said.
Houston Chronicle
March 17, 2009 By Nancy Sarnoff
Amir Khosrowshahi is not worried yet but he is starting to feel the pinch.
The custom builder has been trying to sell a 4,570-square-foot house in Memorial Bend that's completed and been on the Multiple Listing Service for about four months.
He has even shaved $100,000 off the $1.15 million asking price in hopes of making a sale.
While low interest rates are driving many of today's home purchases, said his typical buyers are more sensitive to their investment portfolios.
"When your savings has plummeted 40 or 50 percent, you think twice before you cash in your 401(k) for a new house," he said.
Houston's housing market took another hit last month.
Sales were down nearly 25 percent from a year ago and the median price was off 8 percent, according to data from the Houston Association of Realtors.
The market's continued slowdown appears to be intensifying as consumers become more conservative about making big purchases amid a weak economy.
Realtors sold 3,424 single-family homes in the Houston area during February — 1,116 fewer than they did last year, said the association, which tracks mostly existing but some new homes.
The median price of a home dropped to $138,970.
February sales of townhomes and condominiums also fell hard, tumbling 32 percent on a year-over-year basis. The median price dropped 6 percent to $122,300.
Long sales decline
While February marked the fifth straight month of a decline in the median price — the figure at which half the homes sold for more and half for less — sales have been slipping a lot longer.
The slowdown began around the fall of 2007, when banks cut back on subprime lending and started implementing more stringent rules on mortgages.
More recently, a slowing job market and wild swings in the stock market have some buyers on hold, particularly in the high-end market.
Sales of homes priced at $500,000 and above were down 42 percent in February.
It would have taken 14.5 months to sell all the homes in that upscale market, based on calculations from the association. That's up from 10.1 months a year ago.
As consumers watch the value of their investments drop, "many people are trying to stay very liquid," said Amy Bernstein of Bernstein Realty.
Khosrowshahi, the custom builder, still has time to weather the slowdown. He said builders like him usually budget for a six-month marketing period.
A couple months beyond that, "you start getting nervous," he said.
Despite the overall market declines, there were some bright spots.
Home prices were up in parts of Katy, Montgomery County, the Inner Loop and Fort Bend County.
And sales activity for lower-priced homes increased from last year.
Sales of properties priced at $80,000 and below, which made up 21 percent of last month's transactions, were up 35 percent.
Many of those lower-priced homes were discounted foreclosures that are now being purchased by investors and others looking for a deal.
"Because the rental market is so strong, you're seeing a lot of investors buying," Bernstein said.
Foreclosure sales, which the association said are dragging down prices, made up 28 percent of all single-family home sales last month, compared with 23 percent a year ago.
Tax credit helps
Clearly, there are traditional buyers braving the market.
Steve Barnes, an executive with the Houston region of Coldwell Banker United, Realtors, said low interest rates and a new $8,000 home-buyer tax credit have generated more activity over the past month at his firm.
"This is the first time I've been encouraged since we started going down," he said.
Cindy Whiteside, a real estate agent with Prudential Gary Greene, Realtors who specializes in the area north of FM 1960, said she just helped a young couple buy their first home. The seller dropped the price by about $18,000 and threw in the washer and dryer, refrigerator and a dining room table.
"You can get more house now than you'll probably ever be able to get in our lifetime," Whiteside said. "This is a recession."